Team TELMEX Claims Fifth GRAND-AM Championship
Pruett and Rojas finish second at Mid-Ohio, claim first back-to-back titles
LEXINGTON, Ohio (September 17, 2011) – TELMEX Chip Ganassi Racing with Felix Sabates drivers Scott Pruett and Memo Rojas captured the team's fifth GRAND-AM Rolex Sports Car Series Championship (2004, 2006, 2008, 2010, 2011) and first back-to-back titles, after finishing second in the EMCO Gears Classic presented by KeyBank. Both drivers also earned the 2011 Daytona Prototype Drivers Championship after they each crossed the 30-minute mark behind the wheel of the No. 01 Dinan-Prepared BMW Riley at Mid-Ohio. For Pruett, this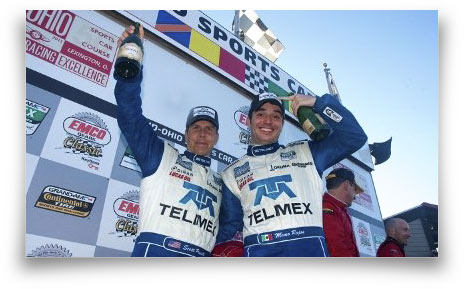 is his fourth GRAND-AM Drivers Championship (2004, 2008, 2010, 2011), while Rojas is claiming his third (2008, 2010, 2011). The final point standings show Team TELMEX finishing the season 32 points ahead of the No.10 car (385 to 353).
Their second-place finish in the Rolex Sports Cars Series presented by Crown Royal Cask No. 16 season finale also clinched manufacturer championships for the team's Dinan-prepared BMW engine and chassis supplier Riley Technologies.
Rojas started 11th after Team TELMEX chose to make an engine change following final practice. When the green flag dropped, he quickly moved up to ninth within the first two laps of the race and on a restart, following an early caution, Rojas quickly grabbed another position and ran in eighth for the early part of his stint. 24 minutes into the event, the No. 01 came onto pit road for four tires and fuel in an effort to use pit strategy to gain valuable track position. As the race crossed the 30-minute mark, Rojas had driven up to sixth and held on to the position until the end of his stint, 45 minutes into the race.
Under caution, the team elected to make a driver change as Pruett took over behind the wheel of the Dinan-Prepared BMW Riley with just under two hours remaining. When the green flag was displayed again, he restarted third, but fought handling issues as the stint continued and dropped to fifth. After a caution flew at the halfway point of the event, Pruett made a pit stop for adjustments moving him to 10th-place. After avoiding multiple on-track incidents, Pruett made his way through traffic to get into the top-five with one hour left.
Another yellow flag came out with 50 minutes remaining, allowing most of the leaders to come in and make their final pit stops of the day. The No. 01 came out of the pits in third and would move into the runner-up spot with 38-minutes left. With less than 15 minutes-to-go Pruett was chasing down the leader before a full-course caution came back out with just 10 minutes remaining. The green flag was displayed with just three minutes-to-go, but after losing a few car lengths to the leader, Pruett held on to take the checkered flag in second.
RACE NOTES:
The No. 01 team has finished inside the top-two in 10 of 12 races this season.
With their runner-up finish, Pruett and Rojas notched their 11th top-five of the season
CHAMPIONSHIP NOTES:
This title marks Chip Ganassi Racing Teams Inc.'s 13th championship as an organization.
Pruett and Rojas have claimed three championships in four years (2008, 2010, 2011), scoring 22 victories along the way.
With their five wins in 2011, this is the fourth time in eight seasons (2006, 2008, 2010, 2011) that Team TELMEX has won five or more races in a single season (Won Team Championship all four years).
This is the third time in team history that TELMEX Chip Ganassi Racing with Felix Sabates won both the season-opening Rolex 24 At Daytona and the GRAND-AM Team Championship in the same year (2006, 2008, 2011).
Pruett and Rojas finished on the lead lap in 11 of 12 races this season.
Pruett now holds the GRAND-AM record by securing his fourth Daytona Prototype Drivers championship (2004, 2008, 2010, 2011), while Rojas claimed his third (2008, 2010, 2011).
The No. 01 team scored 10 podiums in 2011. This is only the second time they have accomplished this feat (2010).
TEAM TELMEX QUOTEBOARD:
Scott Pruett: "I just have to say thank to all of the Ganassi guys. We really didn't think we were going to be able to get the manufacturers championships as well. It is just a huge day for us. To win this championship for the drivers, the team and the manufacturers, it was just an incredible year. Memo did a great job all year long. We had our ups and downs, but when all was said and done, it was a great day."
Memo Rojas: "It is amazing. It has just been a blast being here for these last few years. I want to thank everyone here at Team TELMEX and everyone within the organization. To be able to win back to back championships is like nothing I could have imagined. We had another great year from Daytona to Mid-Ohio, and we made the most of our opportunities and that is what got the team back here again."
Up next for TELMEX Chip Ganassi Racing with Felix Sabates is the GRAND-AM Rolex Sports Car Series 50th Anniversary of the Rolex 24 At Daytona at Daytona International Speedway on Saturday, January 28, 2012.